All 5 books, Edward Tufte paperback $180 All 5 clothbound books, autographed by ET $280

Visual Display of Quantitative Information

Envisioning Information

Visual Explanations

Beautiful Evidence

Seeing With Fresh Eyes

catalog + shopping cart
Edward Tufte e-books
Immediate download to any computer:

Visual and Statistical Thinking

$5

The Cognitive Style of Powerpoint

$5

Seeing Around + Feynman Diagrams

$5

Data Analysis for Politics and Policy

$9

catalog + shopping cart
Analyzing/Presenting Data/Information
All 5 books + 4-hour ET online video course, keyed to the 5 books.
Sparkline theory and practice Edward Tufte
A sparkline is a small intense, simple, word-sized graphic with typographic resolution.
Sparklines mean that graphics are no longer cartoonish special occasions with captions and boxes,
but rather sparkline graphics can be everywhere a word or number can be: embedded in a sentence,
table, headline, map, spreadsheet, graphic. Data graphics should have the resolution of typography.
See Edward Tufte, Beautiful Evidence, 46-63.
Sparklines: recent finds
NES Sparklines
Michael Fogleman (January 23, 2018)
Pulsars and Sparkline-like graphics.
Nature (vol. 217, February 24, 1968)
Sparkline small multiple
1970 NASA report of throttle problems in the Apollo Lunar Module.
Sparklines in Steven Heller and Véronique Vienne,
100 Ideas that Changed Graphic Design (Lawrence King Publishing, 2012), p. 196:
Apple Watch sparkline, announced September 9,
good but should show more detail, more data texture.
Should have design minimization, not data minimization.
.@Mandiant used @EdwardTufte #sparklines to identify attacker activity. Watch No Easy Breach https://t.co/lQMQ6sSAcm pic.twitter.com/oFEFCDAqA6

— Richard Bejtlich (@taosecurity) September 27, 2016
Tutorial here for creating SVG-based sparklines with d3.js.
Implementing angular.js directives for d3.js and nvd3.js,
tutorial here.
Below, sparklines in Twitter analytics,
good but routinely longer time periods
and more intense detail would be better.
General idea = max[data], min[design].
Diluting Perceptual Cluster/Streak Bias:
Informal, Inline, Interocular Trauma Tests

When people look at random number tables, they sees all kinds of clusters and streaks (even in random data). Similarly, when people are asked generate a random series of bits, they generate too few long streaks (such as 6 identical bits a row), because their model of what is random greatly underestimates the amount of streakiness in genuinely random data.
Sports, financial, and political reports are notorious for their narrative overreach, fantasizing about clusters, streaks, momentum, turning points, trend-spotting. The shorter the attention span of the reporter and the audience, the greater the faux trend spotting.
xkcd did this wonderful critique: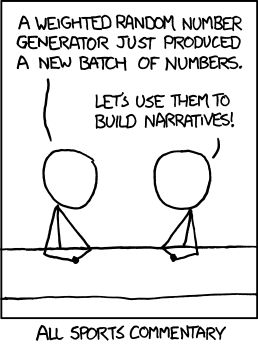 A General Manager of a professional NBA basketball team described to me this strategy for escaping over-storytelling in postgame analysis. When coaches watched the video of a game, they would often simply reinforce their prior story: "When we kicked the ball out of bounds twice in the first minute, that was the beginning of the end, we lost all momentum and never caught up...blah blah." To overcome premature storytelling, the team did postgame reviews with the plays of the game in random order. This initially was intellectually taxing to viewers with preconceived narratives. In economics, autocorrelation is regarded as a plague. In sports, it is the main explanatory variable.
To dilute streak-guessing, randomize on time over the same data, and compare random streaks with the observed data. Below, the top sparkline shows the season's win-loss sequence (the little horizontal line = home games, no line = road games). Weighting by overall record of wins/losses and home/road effects yields ten random sparklines. Hard to see the difference between real and random.
The 10 random sparkline sequences can be regenerated again and again by, oddly enough, clicking on "Regenerate random seasons." This is looking a bit like bootstrap calculation. For the real and amazing bootstrap, applied to data graphics and contour lines, see Persi Diaconis and Bradley Efron, "Computer Intensive Methods in Statistics."
The test of the 10 randomized sparklines vs. the actual data is an "Interocular Trauma Test" because the comparison hits the analyst right between the eyes. This little randomization check-up, which can be repeated again and again, is seen by the analyst at the very moment of making inferences based on a statistical graphic of observed data.
(Thanks to
Adam Schwartz
for his excellent work on randomized sparklines. ET)
-- Edward Tufte

---
---




Threads relevant to sparklines:

Narrative sparklines should replace one-at-time instantaneous performance readings.

Open-source and proprietary computer codes for sparklines are nowwidely available. This thread reviews a few of the many possibilities.




Sports data (along with financial and medical data) are an obvious and natural application of sparklines.

An early effort to set sparkline code standards, an effort which was soon overwhelmed by all the different codings.

---